Back to HEART NIGHT is Aug 31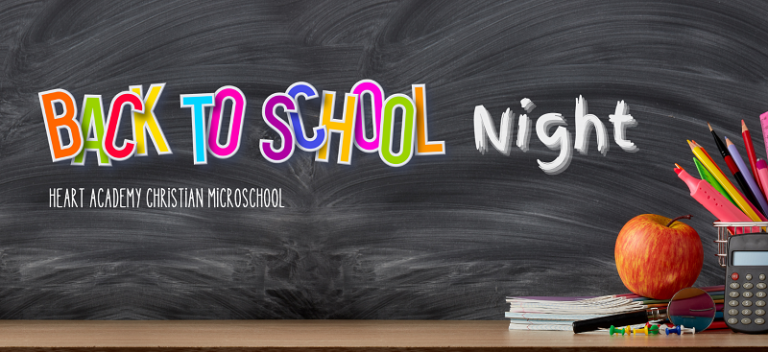 THIS EVENT HAS ENDED. Series of 2021.
We are changing the date of our Back to School Night from August 23 to August 31 at Green Valley Christian Church, San Jose, CA from 6-8 pm. This is mandatory for all families.
We will meet for a general meeting together and create a schedule for all the classes and micro-school to meet their teachers, other students, other parents and get their homework if applicable.  Micro-schools already have their homework inside their teacher manual!
For new micro-school families, here are the next steps for you!
Next Steps
ABC's of Homeschooling – Mandatory Requirement for new homeschoolers, https://calendly.com/crissiallen/abc-s-of-homeschooling
Register with me – this is done. https://calendly.com/crissiallen/heart-academy-micro-school-reg
Pay the reg fees to Crissi and teachers
Buy the curriculum, I will set up your account and then you can pay for it, watch for an email.  Try to register by the 23rd so you can purchase your curriculum by the next day.  Otherwise, it will be $25 shipping to expedite, or $400 shipping 2-3 days.
Group Leader Information Meeting, https://calendly.com/crissiallen/heart-academy-synergy-group-leader-info
Aug 27 to train you in using my Father's World, https://calendly.com/crissiallen/my-father-s-world-curriculum-training
Aug 30, 5 day school starts, 
Aug 31, Back to HEART Night, Green Valley Christian Church, 6-9 pm, meet teachers, parents, students, general meeting https://calendly.com/crissiallen/back-to-heart-night
Sept 3 First day of 1 day Micro-school