Ready to Start Planning for Homeschooling in the Fall?
I just got mine and it looks AMAZING!
Get the Homeschool Resource Co. Preview Collection for FREE!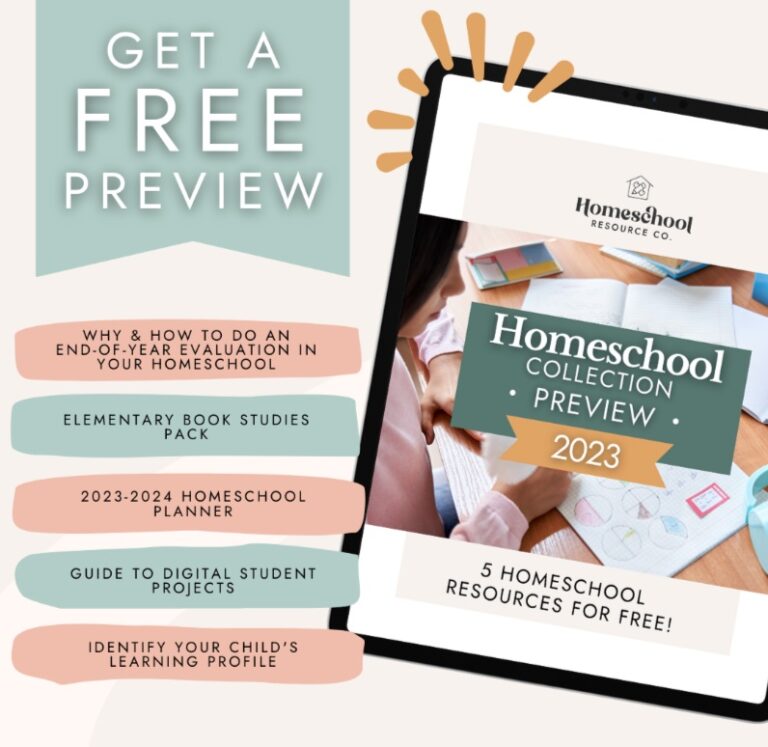 Time is running out to grab five valuable products worth $62 at no cost.
Click here to get the Collection Preview Collection Preview  for FREE!
These products, carefully selected to enhance your homeschooling journey, include:
Why & How to do an End-of-Year Evaluation in Your Homeschool from Enrichment Studies
Elementary Book Studies Pack from Blue Sky Designs by Mrs. T
2023-2024 Homeschool Planner from Simply Creative Journey
Guide to Digital Student Projects from Techie Homeschool Mom
Identify Your Child's Learning Profile from ELARP™ Learning

But here's the exciting part: this limited-time offer is just a glimpse of what's to come! We are excited to announce that it is leading up to The Homeschool Collection!
"The Homeschool Collection" is an extraordinary compilation of resources, curated to empower and inspire homeschooling families like yours (including our 125-page Reading Journal!).
If you're already excited about the current limited-time offer, then you won't want to miss "The Homeschool Collection." It's designed to provide you with even more valuable tools, insights, and resources that will enrich your homeschooling journey.
Keep an eye on your inbox for upcoming announcements and more details about "The Homeschool Collection."
Click here to get the Collection Preview